Hollywood
Retrospective: Vol. 2
ONCE UPON A… TARANTINO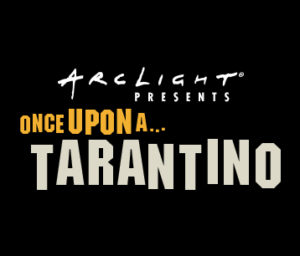 Three years after New Beverly Cinema ran their Quentin Tarantino film retrospective…
Well, here we are. Volume Two. Two thousand and nineteen. Another movie release from an influential and brilliant filmmaker. Another film retrospective. This time, fans would celebrate some iconic feature length movies during a three day event. A tribute to Tarantino from ArcLight Cinemas in… HOLLYWOOD!

This slideshow requires JavaScript.
---
ArcLight Presents…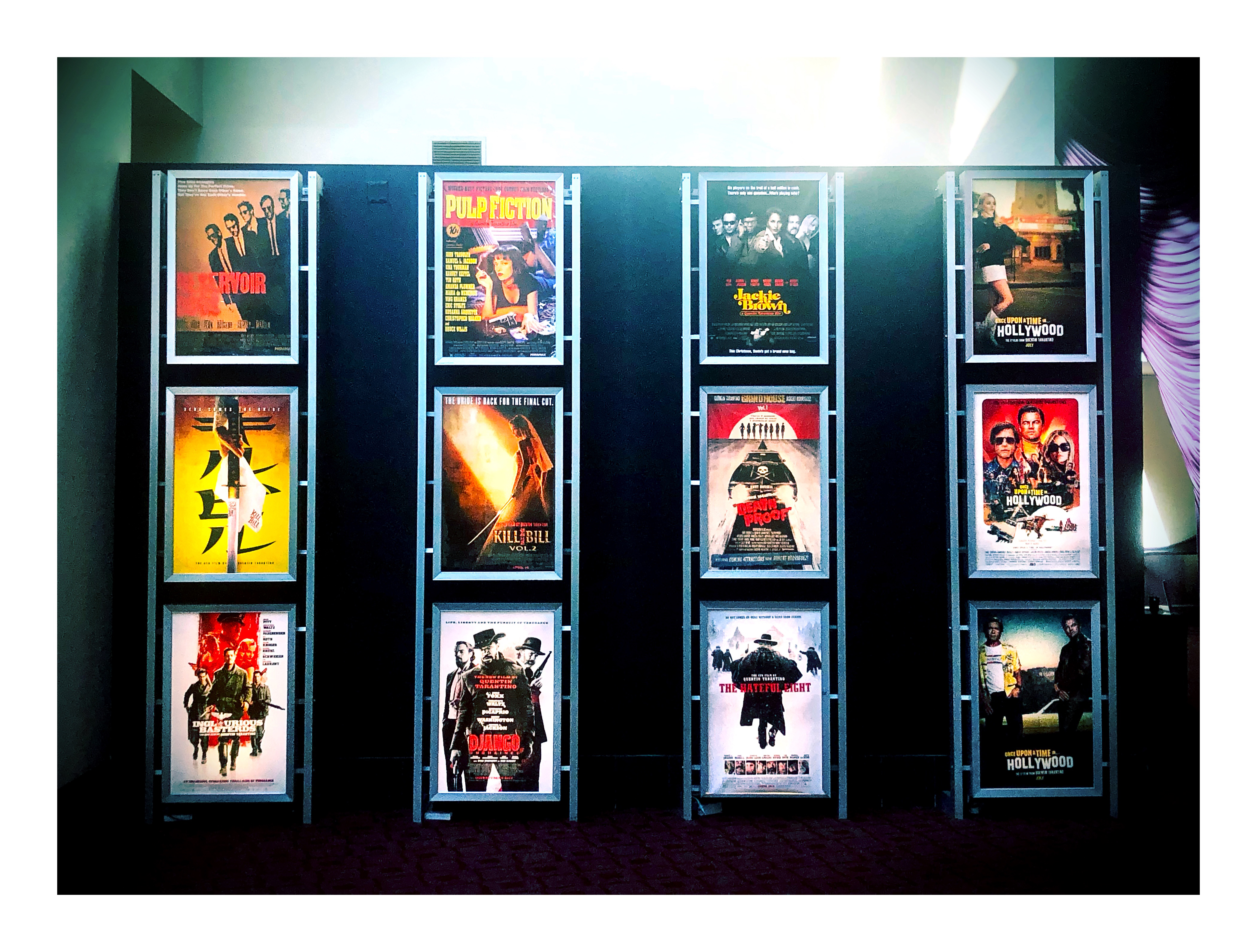 Unlike New Bev's two month long extravaganza in 2016 (where they dished out one film every Friday at midnight), ArcLight Cinemas decided to showcase Tarantino's entire filmography in three short days. ArcLight's event began Friday afternoon on July 19th, 2019 and wrapped up just before midnight the following Sunday. One weekend jam packed with QT's past work as a writer/director.
I couldn't wait to be at this exclusive event!
On the morning of advanced ticket sales, ArcLight's computer system crashed. Of course it did! The crash prevented smooth sales and I purchased what I could using the theatre's cellphone app and main site by laptop. Early into this deal, I thought about taking screenshots to document the moment. Document some cool stuff, just like Vol. 1 – with images, videos, graphics, screenshots, links, etc.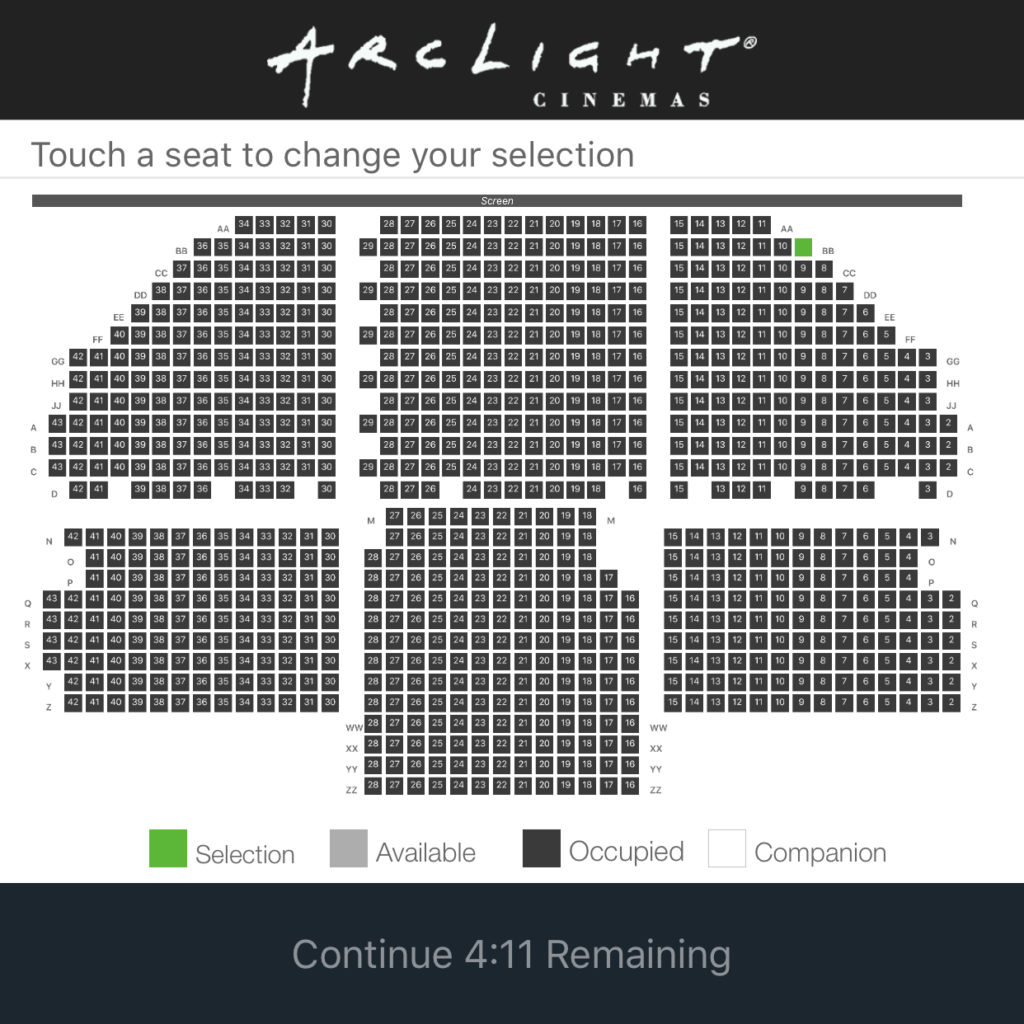 #loaded
2019's ONCE UPON A… TARANTINO felt just as important as 2016's THE TARANTINO 8 from the jump. Just as special, so I secured a ticket to each classic Tarantino movie for all three days in July. Also included in this July weekend at ArcLight Cinemas was an early release screening to "Once Upon a Time in… Hollywood" taking place on July 21st at the Cinerama Dome. Tickets were snatched up rather quickly, no surprises there. Computers crashing, bad WiFi signals, competing with movie-goers who physically went into ArcLight Cinemas to purchase theirs… a sneak peak seemed impossible.
I got on the ArcLight Cinemas seating chart and it looked to be SOLD OUT, but wait. One space for sale, way up front and off to the right side. One green spot available. A solo seat remained to an early release screening of a new Tarantino film. You kiddin' me?
BB9!!!
Wow. The beauty of it all. All I had to do next was make a purchase within 5 minutes. I'm not sure why there was only one ticket remaining, or how I clicked into ArcLight's seating chart at the exact right moment when I did? Whatever happened – luck, persistence, an oddity, a glitch – I took it all in before I grabbed that final-final seat, no questions asked.
Seeing "Once Upon a Time in… Hollywood" during this weekend event before the movie's release was key because ArcLight Cinemas advertised 9 films, one director and one weekend. I'd be damned if I only saw eight movies. No way. I absolutely had to see these nine movies in this exact order:
Nine or nothin'.
Many of Quentin Tarantino's earlier films were made available to view by ArcLight in the Cinerama Dome. It must've been a nice experience, with state-of-the-art digital projection. I decided to wait for The Dome experience until movie #8: a 70mm print of "The Hateful Eight" – finally! "The Hateful Eight" the way it was supposed to be seen! A beautiful 70mm film print projected on to the screen of Hollywood's historic landmark. I opted to go with smaller screens for everything "Reservoir Dogs" through "Django Unchained" in 35mm because a film retrospective should be experienced with film, if you can help it.
Ah, yes. Another Quentin Tarantino film retrospective. Another Quentin Tarantino film retrospective on film. Both New Beverly Cinema and ArcLight Cinemas projecting film at 24 frames per second. Old school. And both New Beverly and ArcLight count "Kill Bill: Vol. 1" and "Kill Bill: Vol. 2" as a single movie shown in two parts.
So be it.
9 films, 10 tickets… and then some!
"RESERVOIR DOGS"
This slideshow requires JavaScript.
"Reservoir Dogs" kicked everything off on July 19th, 2019. Everyone in attendance got a collectible metal ticket from ArcLight Cinemas and each metal ticket had been individually numbered. For the first movie, my collectible ticket number was #2041 of 3000:

I studied the collectible gift from ArcLight and wondered if anyone got the year I was born… 1973.
Before the film began, there was a bit of trivia – free caramel corn, a couple of free movie tickets and a movie poster to "Once Upon a Time in… Hollywood" signed by writer/producer/director Quentin Tarantino. The movie theatre in Hollywood really went all out. And on the way out, each person received a mini poster to "Once Upon a Time in… Hollywood."
---
"PULP FICTION"
This slideshow requires JavaScript.
On to the second film in the series:
"Pulp Fiction" – more metal collectible tickets before the movie started and another free mini poster after the movie ended. As far as the ticket went, I got #0973 out of 3000. Another thousand and I would have hit my birth year…1973.
As far as the mini posters went, I ended up with about a dozen of them once the weekend ended. These particular posters measure approximately 11″ X 17″ and come printed on one side. Generally, mini posters aren't worth anything. Maybe the paper they're printed on? Still though. Super cool.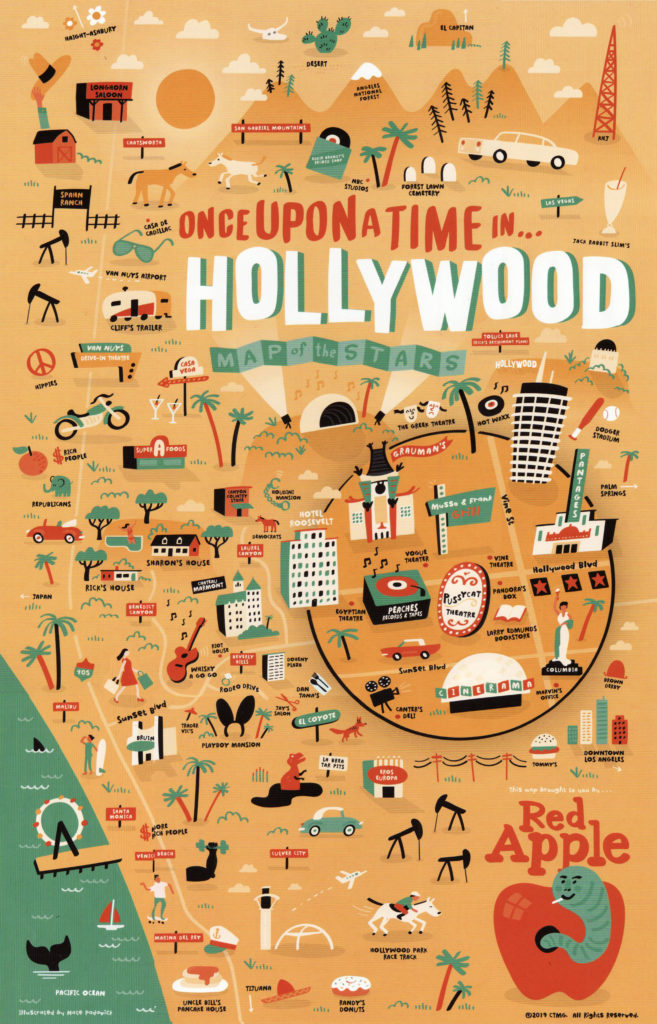 What was worth something from ArcLight Cinemas that I had to have, were a set of pins from each Quentin Tarantino film. The pins came in a simple white box, skinny black bow and didn't look like much, but whoa… them pins would go perfect with The Tarantino Eight pin set I picked up at New Beverly Cinema.
When "Pulp Fiction" was done, end credits and all, I headed to the lobby.
I searched the crowded floor for some type of official looking – yes, that guy carrying two white boxes of pins! He's obviously a manager at ArcLight Cinemas and his name is Z—.
"Hey, excuse me… are those the pin sets for ONCE UPON A… TARANTINO you got there? Do you know if those will be for sale after the Tarantino event here?"
Nope. Gotta win 'em.
"Okay. I'll just try and win them next time at the next movie. I really want those!"
You'll have a few opportunities.
---
"JACKIE BROWN"
This slideshow requires JavaScript.
FOR THE BUTTONS: "What aspect ratio was "Jackie Brown" filmed in?"
I friggan knew that answer! 1:85:1 – another person in the theatre raised their hand before me and got them buttons!!! Oh, I was devastated. Then an ArcLight employee holds up a gift bag…
And what's in the gift bag? Oh, just 4 movie tickets, a tub of caramel corn, a glass from ArcLight Cinemas with "Once Upon a Time in… Hollywood" written on it along with a mini poster of the one-sheet and a bag to hold everything inside.
FOR THE GIFT BAG: "What book was "Jackie Brown" based on?"
RUM PUNCH!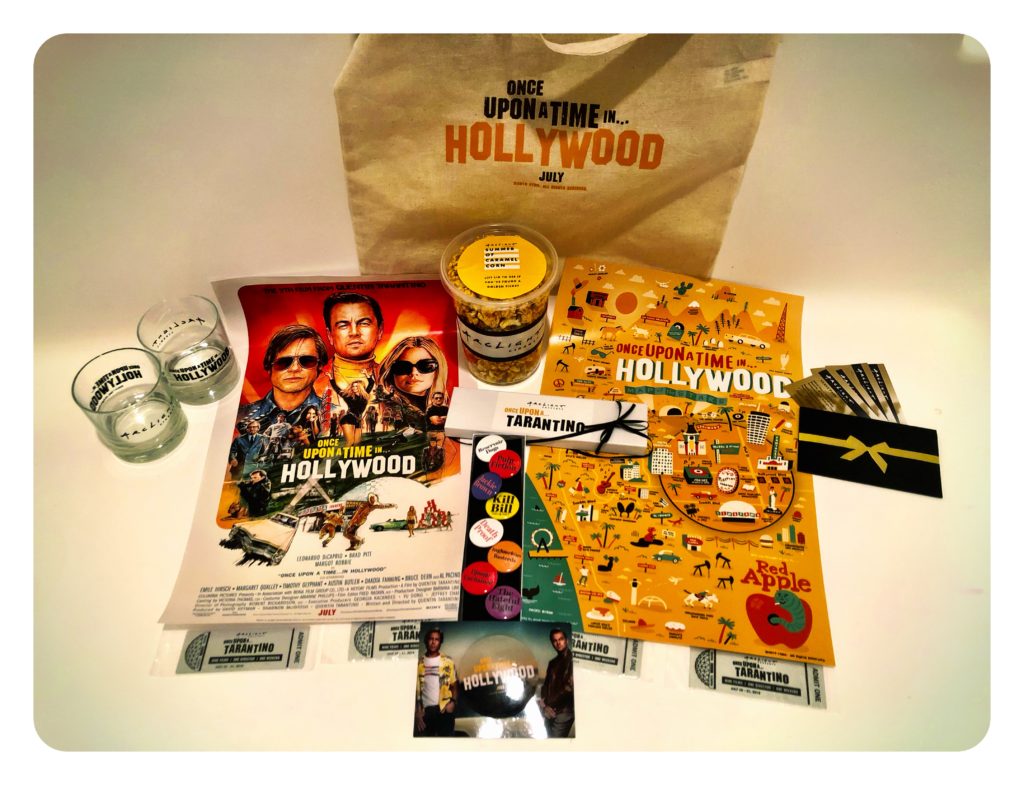 Unreal… UNREAL! I got them buttons and then some.
---
"KILL BILL: VOL. 1"
This slideshow requires JavaScript.
"Kill Bill: Vol. 1" closed out Day 1 – a midnight screening at ArcLight Cinemas. On the way in, an usher handed me another metal ticket…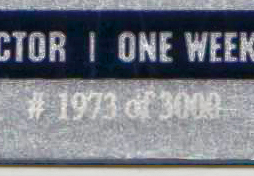 A theatre person randomly hands me a collectible ticket from this Tarantino film retrospective… a ticket with the year I wanted.
1973
Amazing.
I left ArcLight Cinemas at about 1:30am with a loot bag, pictures to go over from the iPhone and that first day of ArcLight's event under my belt. Day 1 and four movies on 35mm film, an Arclight Cinemas gift bag from "Once Upon a Time… in Hollywood" – wow. Sleeping proved to be difficult and I needed sleep.
Another 12 hour day coming up shortly.
---
"KILL BILL: VOL. 2"
This slideshow requires JavaScript.
Day 2 began with Quentin Tarantino's "Kill Bill: Vol. 2" on 35mm. Personally, I loved how this movie got broken up into two parts. ArcLight's break between the "Bills" was just about twelve hours, after a midnight screening. Maybe I slept walked into the theatre? I barely remember the drive.
I did remember to save and scan those metal ONCE UPON A… TARANTINO collectible souvenir tickets.
SPOILER ALERT: I went to all the films over the weekend, obviously.

And we have reached the halfway point in Tarantino's film retrospective: VOLUME TWO! ArcLight CInemas really knocked the sequel out of the park.
Throughout the film series, some movies were offered in the Cinerama Dome. From hereon out, the crowds would sit together as "Death Proof," "Inglorious Basterds" and "Django Unchained" were to be held in Cinema 10 only. I kept building up toward "The Hateful Eight" – a 70mm presentation in The Dome.
---
"DEATH PROOF"
This slideshow requires JavaScript.
"Death Proof" – what can I say about "Death Proof" and how much fun that movie is on the big screen?
Wow.
WOW! Before Tarantino's second afternoon film began, I picked up two tall glasses to compliment my two shorties from the previous day. Official "Once Upon a Time in… Hollywood" drinking glasses. One for me and one for the person I do stunts for.
Cheers, Rick Dalton!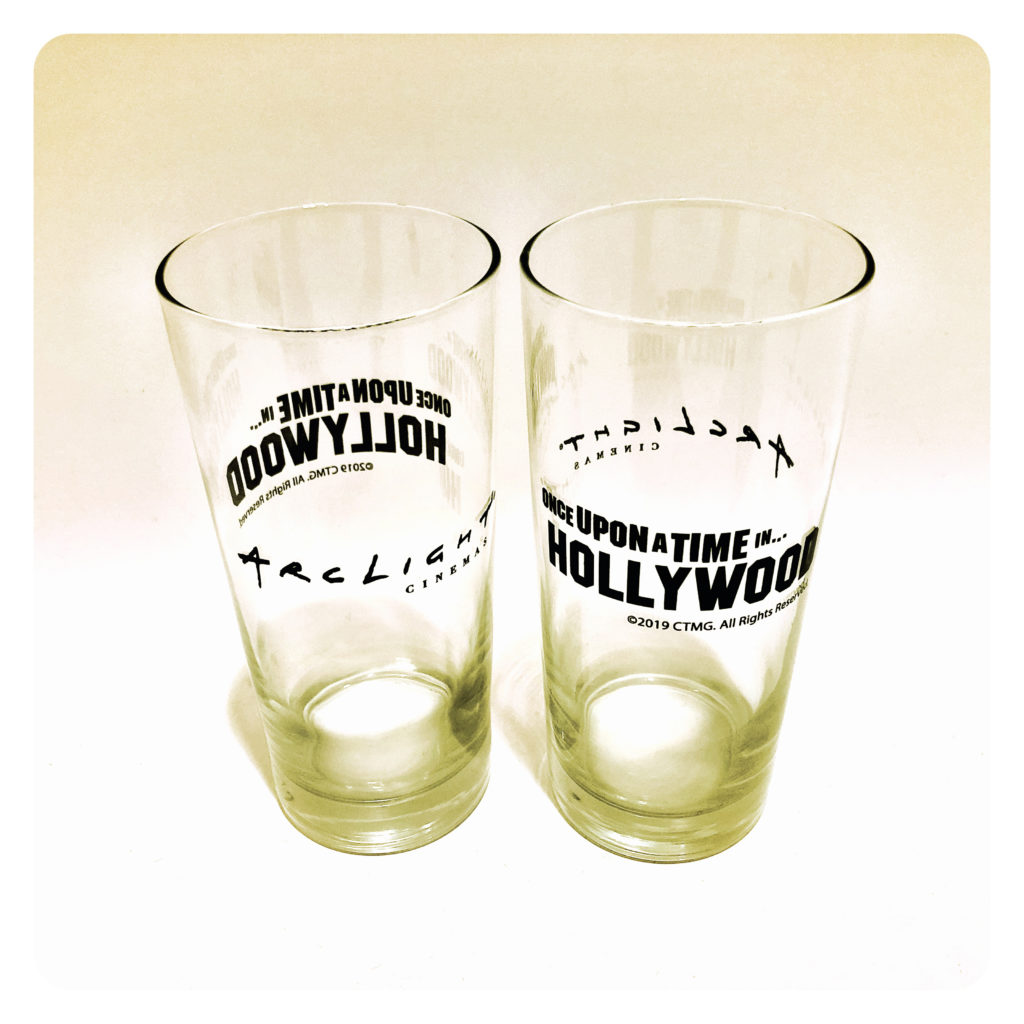 I also had my eyeball on an ArcLight Cinemas drink menu from the bar. Not the plastic table display part, no. I wanted the cardboard piece of paper inside the plastic holder. I asked the bartender and he laughed.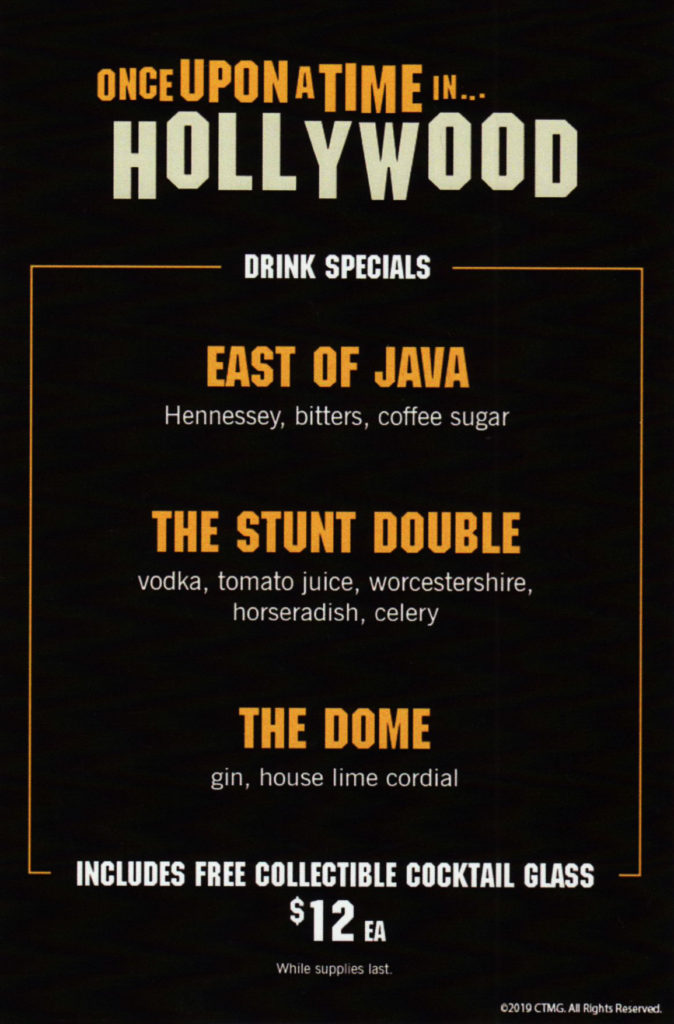 Not for sale.
The bartender gave me the paper and I gave the bartender a couple of bills from my wallet.
---
"INGLORIOUS BASTERDS"
This slideshow requires JavaScript.
ArcLight Cinemas had a long break before their midnight showing of "Inglorious Basterds" in Cinema 10. The reason for the long break? "Once Upon a Time in… Hollywood" showed at 7:00pm in the Cinerama Dome. I chilled for a few moments inside Carrie the car and looked over photos I had taken so far: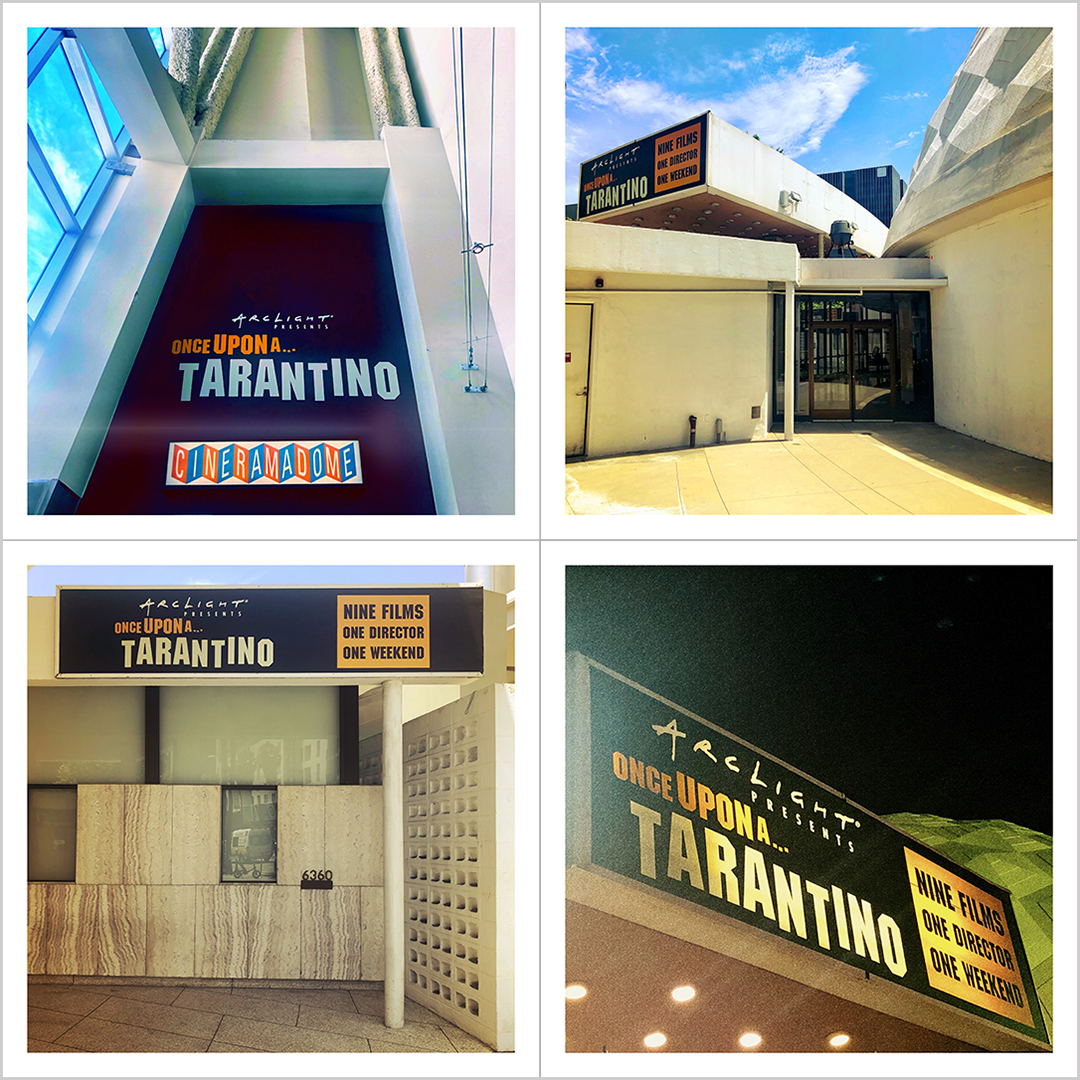 So far, so good. So far, so GREAT… so DAMGR8.
I checked out Instagram photos uploaded in both square format and horizontal/rectangle sizes. Day and night shots and happy with the images. ArcLight Cinemas had been offering free passes to see "Once Upon a Time in… Hollywood" at the official World Premiere of the film on Monday, July 22nd, 2019. If photos were tagged by the people who used #ArcLightTarantinoSeries on Instagram, that's all it took to win.
The images I took had their individual filters applied, frames added, hashtags in the write-ups and… so far, so great.
I liked my chances.

We get our metal collectible souvenir ArcLight Cinemas presents: ONCE UPON A… TARANTINO tickets and trivia time for "Inglorious Basterds."
First ArcLight offers the free tub of caramel corn. Then the set of pins.
Now the big one:
TWO FREE PASSES TO THE WORLD PREMIERE OF "ONCE UPON A TIME IN… HOLLYWOOD" for Monday.
And the question was: What is the name of the German film in the movie "Inglorious Basterds"…
<my hand shoots up into the air>
…and what is the director's name who played one of The Basterds?
<they call on me>
I say, "Eli Roth and the movie in the movie was…"
OMG! I froze! I drew a blank! I knew this answer, but… "WAIT! Gimmie a minute!" and I closed my eyes to think.
Suddenly, a guy in the front row yells out "Nation's Pride" as my eyes were closed and I tried to concentrate.
"Nation's Pride" by Eli Roth!!! YEAH!!! I FUCKING KNEW THAT!!!
Needless to say, I did not go to the World Premiere. Chalk that one up to lack of sleep and deliriousness.
---
"DJANGO UNCHAINED"
This slideshow requires JavaScript.
Sunday… the final day of ONCE UPON A… TARANTINO at ArcLight Cinemas in… Hollywood.
I wake up to do it all over again. Sunday kicks off with "Django Unchained" inside Cinema 10. Everyone received their metal collectible souvenir ticket from the theatre. Trivia was tough. Carmel corn, a pin set and an autographed "Once Upon a Time in… Hollywood" framed movie poster, signed by Quentin Tarantino.
One more film on 35mm before we all get to the 70mm print of "The Hateful Eight" at The Cinerama Dome!
ArcLight Cinemas continues encouraging us to hashtag our pics on Instagram for a chance to win: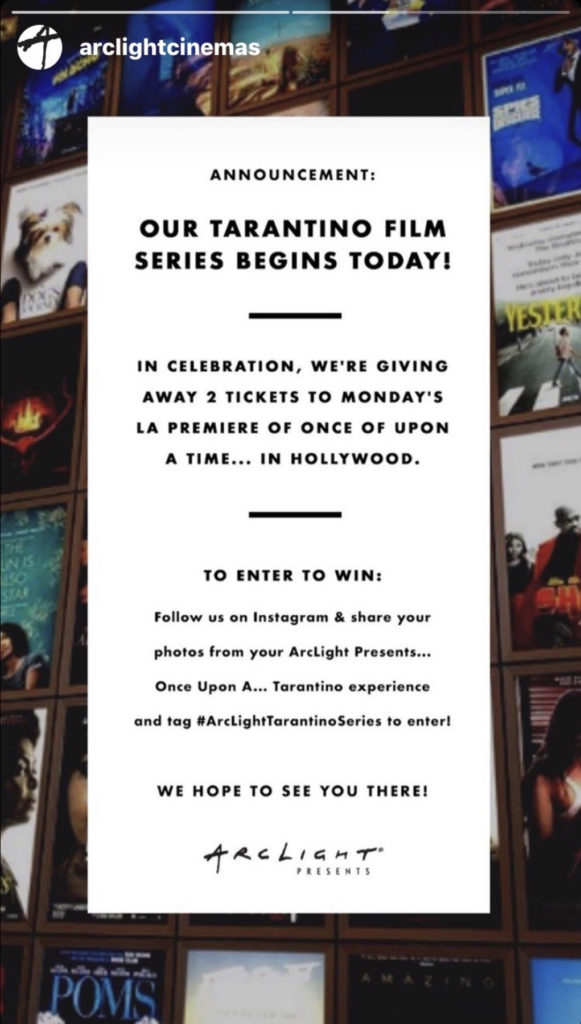 SPOILER ALERT: the pictures I posted to Instagram did not "take" the 2 L.A. PREMIERE TICKETS, but…
---
"THE HATEFUL EIGHT"
This slideshow requires JavaScript.
Everything shifts to ArcLight's CINERAMA DOME for a 70mm projection of "The Hateful Eight" inside the famous landmark.
Previously, I had tried to see this film on opening day – Christmas Day of 2015. Oddly enough, "The Hateful Eight" played inside Cinema 10 back in 2015. Here we are, almost 3 and a half years later, watching the epic 8th film on 70mm inside the Cinerama Dome.

Finally… the logo at the beginning of "The Hateful Eight" makes sense. It played inside the CINERAMADOME.
Some know the story, some don't know the story. The story is, the reason Quentin Tarantino's masterpiece got run out of The Dome all those years ago is because "Star Wars" and the Disney company. Now… almost three and a half years later… Tarantino movies… MULTIPLE Tarantino films… force out "The Lion King" and Disney in 2019. ArcLight Cinemas takes down The Mouse with "Pulp Fiction," "Jackie Brown," two "Kill Bill" films, "The Hateful Eight" and "Once Upon a Time in… Hollywood" over the weekend. Tarantino takeover. And now the Quentin Tarantino film retrospective moves into The Cinerama Dome while "The Lion King" (2019) plays in Cinema 10.
"Revenge is a dish best served cold." – old Klingon proverb
#tasty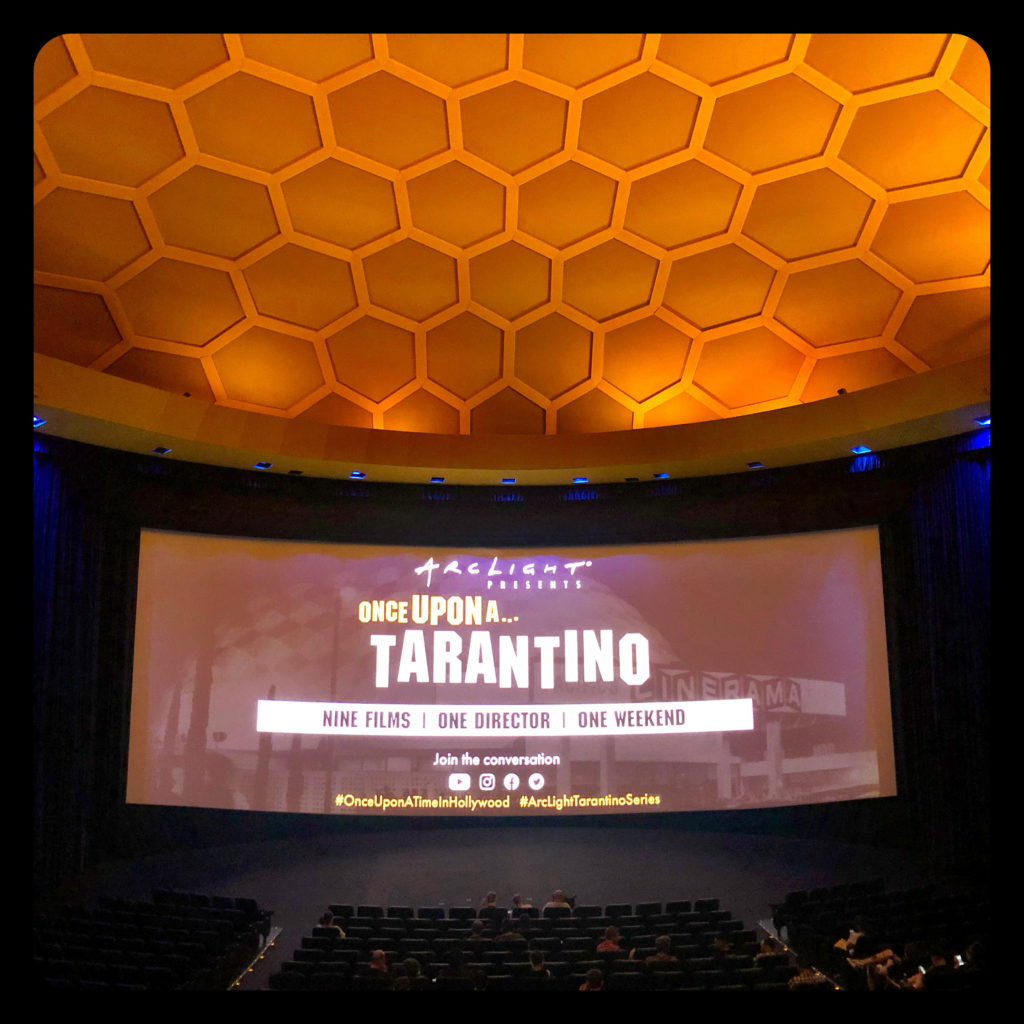 Now "The Hateful Eight." And this version of "The Hateful Eight" is a lesser known cut referred to as the ROAD SHOW version.
The Road Show version of "The Hateful Eight" has a 15 minute intermission. The idea is, you watch about half a film and then the movie stops at a key point. The house lights come up, music plays inside the theatre and the audience stretches their legs, goes out to have a smoke, orders another popcorn and soda from the concession stand, etc.
As for me? I ran out to the car so I could smoke a quick bowl of weed.
On my way back inside, I notice people acting spooky and doing double, triple, quadruple takes – it was Quentin Tarantino making chit-chat in the lobby of the Cinerama Dome.
Yes, Quentin Tarantino… IN THE LOBBY OF THE CINERAMA DOME!!!
Okay. I thought about what to do and grabbed my wallet. I pulled out the Tarantino Eight card from New Beverly Cinema and charged after QT. A woman got into a conversation from the lobby all the way into and inside The Dome. We were about to take our seats. The woman wrapped up her deal with Quentin and she took off.
My turn:
"Quentin, it's me!" and I hand Quentin Tarantino the card from New Beverly. He takes the card and looks it over.
"I went to the Tarantino Eight at New Beverly Cinema and had a great time there too! I love when they play all your movies like this!"
Quentin Tarantino's face relaxes as he recognizes a punch card from his cinema.
"Oh, wow! Hey, man! Come 'ere!"
We do a cool hand slap, enjoy a tiny laugh, he gives me back my Tarantino Eight card and… I met Quentin Tarantino… once again. I've met and talked to QT a few times… and I always show him the mint condition card from The Tarantino Eight, but this encounter… I met Quentin Tarantino during the intermission of "The Hateful Eight" Road Show version, at the CINERAMADOME, on Sunset and Vine in Hollywood, California.
---
"ONCE UPON A TIME IN… HOLLYWOOD"
This slideshow requires JavaScript.
Before jumping back over to ArcLight Cinemas, I'm still buzzing about meeting Quentin Tarantino inside the Cinerama Dome. I mean, hours earlier at "The Hateful Eight" Road Show intermission, QT told me to give him a high friggan five and it was so dang solid. Now here comes the new movie… the one film of Tarantino's I have yet to see:
"ONCE UPON A TIME IN… HOLLYWOOD"
The electronic ticket with that crazy bar code got rejected. Right at the ticket taker scanner machine, it came up red and almost sounded like a wrong answer buzz from some old fashion game show.
"Sorry. This ticket has been scanned already." she tells me… and I'm high as fuck.
"What? How? This is my ticket."
She goes, "Yeah, it's already been scanned. I'm sorry."
Holy smokes! I'm being rejected at the finish line and I show the ArcLight employee my email conformation, a receipt… I left the paper ticket in a safe place so they wouldn't rip it upon entry.
10 minutes until showtime…
The ArcLight employee tells me, "Go over to ArcLight's main lobby and ask for a manager and ask for them to print out another ticket."
This is a great idea, so I head on over and spot a manager who had been waiting for me. I explain the whole random green seat, the one chair left and how I got their final space. Maybe that had something to do with it? Or maybe it was a glitch and two BB9s were sold on accident? And as I'm trying to figure this out, the manager of ArcLight Cinemas hands me a REPRINT ticket.
5 minutes until showtime…
Plenty of time for me to walk over, find my seat and take in "Once Upon a Time in… Hollywood" at the CINERAMADOME.
Tarantino gave his introduction before the film and hyped us up. He also happen to mention "The Hateful Eight" and just how cool it was to see in 70mm earlier at the Cinerama Dome in Hollywood. All my thoughts about meeting Quentin again inside The Dome were legit. That was totally THE PLACE to meet THE MAN and get a solid high five.
Totally.
DAMGR8 time in Hollywood for Quentin Tarantino's 9th film and 2nd film retrospective. DAMGR8 time…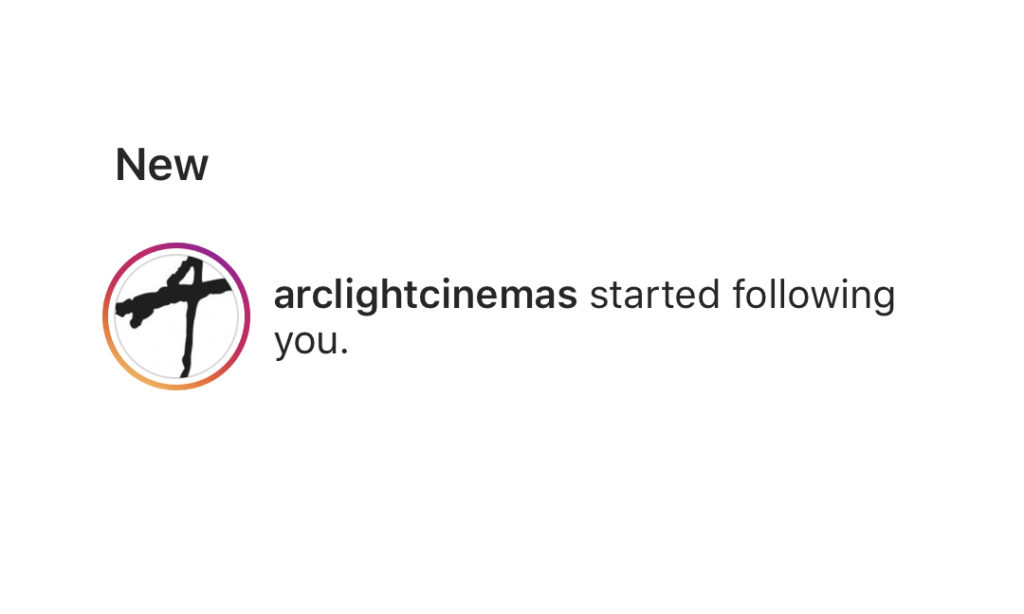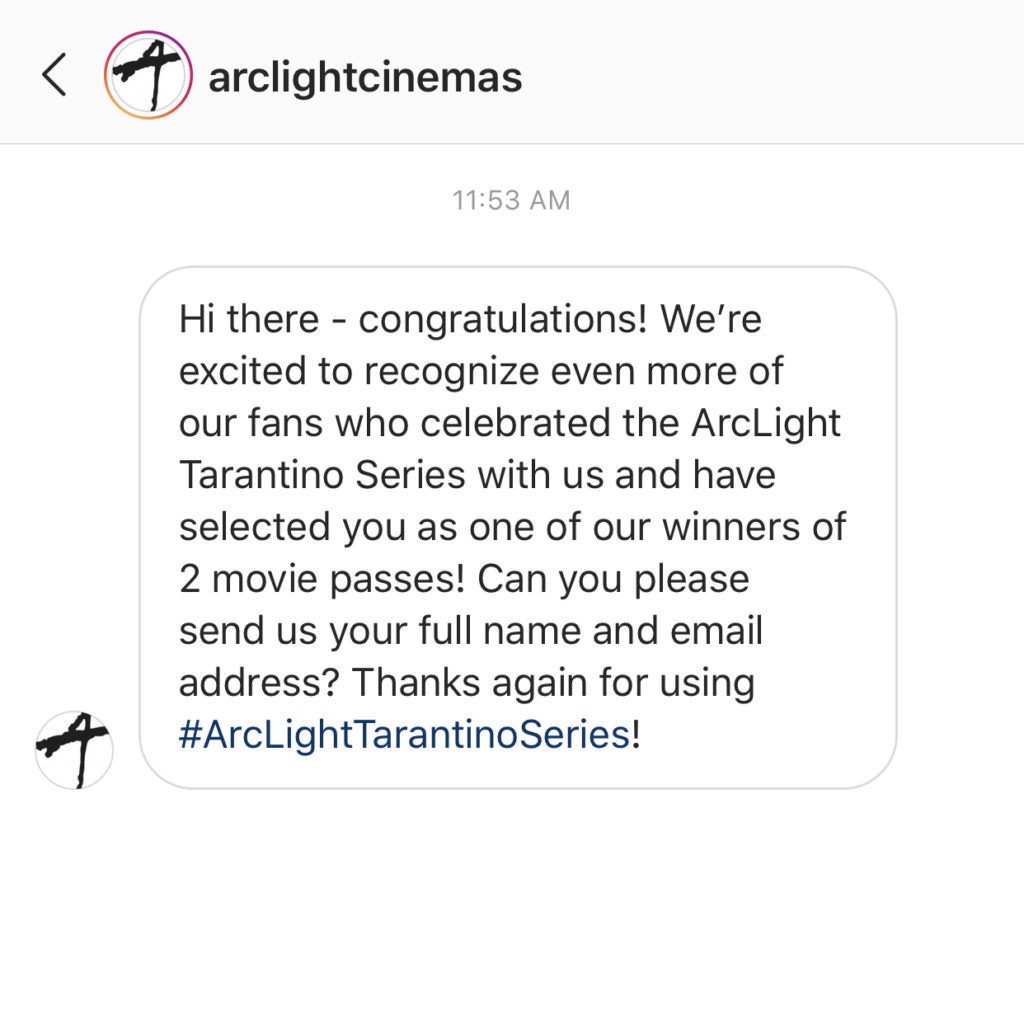 July 26th, 2019
Once Upon a Time… in Hollywood
(Release Date)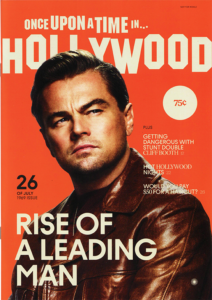 It was to be a day filled with groovy vibes at as many theatres as I could book… in Hollywood. I would begin at ArcLight Cinemas for the 8:00pm Dome show. Immediately after the eight o'clock, I would turn around and do it all over again for the only midnight movie ArcLight offered in 70mm. It had to be 70mm in the Dome at midnight.
From there, my plan was to pull an all nighter, wait in line and pick up the soundtrack EXCLUSIVE to Amoeba Records on Sunset Boulevard. The only way to purchase music from "Once Upon a Time… in Hollywood" is to stand in line and wait for an album… a super rare limited edition vinyl album. Word is, only 500 of them got pressed on wax by Columbia Records/Sony Music Entertainment.
Yeah. Stay up, stand in line for a record or two then take a tiny nap.
Afternoon? I had my ticket for TCL Chinese Mann Theatres… in Hollywood. And I got really lucky. I was able to get tickets for the first midnight screening of "Once Upon a Time… in Hollywood" at Quentin Tarantino's theatre to cap things off!
New Beverly Cinema posted about their first 15 ticket holders in line for each of their Friday showings only… these lucky people were eligible to purchase this ultra rare soundtrack – EXCLUSIVELY SOLD BY AMOEBA AND NEW BEV!!!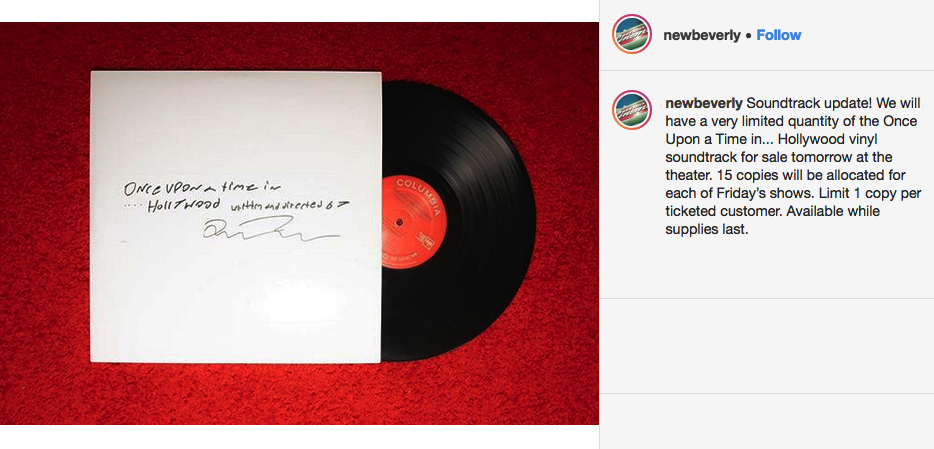 Right on. Cinerama twice in a row on Thursday then Amoeba. Chinese Mann Theatre, New Beverly Cinema…
That was the plan for the day and I liked this plan. Movie, movie music… nap… movie-movie music… sleep. Week long Tarantino adventure over, memories BURNED into my brain, but that last leg at New Beverly Cinema might not be cool. Who knows, right? It's been three long years since New Bev told me I couldn't see "The Hateful Eight" Road Show.
They never really made it clear though.
Well, maybe they won't remember my ass or any of that bullshit with the hackers, trolls, child abusers and all that noise going on during the hateful years?
Those who knew my plans told me to wear a hat…
…and away we go!
CINERAMA DOME
Dusk 'til Dawn
This slideshow requires JavaScript.
Sloppy seconds viewing of "Once Upon a Time… in Hollywood" went off without a hitch. I got a ticket to the 8:00pm showing inside The Dome at ArcLight Cinemas, middle of the action and up fairly close to the screen.
Seat DD22: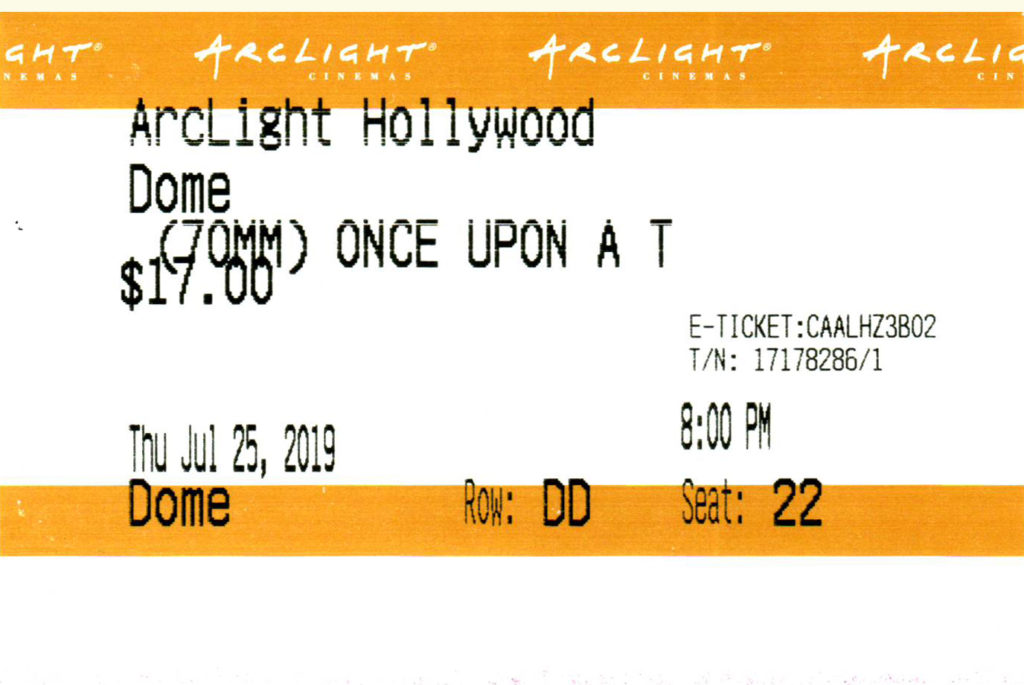 It was perfect. The eight o'clock movie ends, ArcLight Cinemas staff preps for THEIR ONLY 70mm MIDNIGHT SHOWING INSIDE THE DOME… the next one I'm going to!!! I grab another orange free promotional magazine off the table, head out the side door and hop over to the parking garage, where I parked the GTI.
Windows up. A few puffs of pot from The Higher Path and I'm straight. This time around, I'm seated back in the "X" section of CINERAMADOME. When I purchased the ticket online, that just sounded cool.
The "X" Row.
Row: X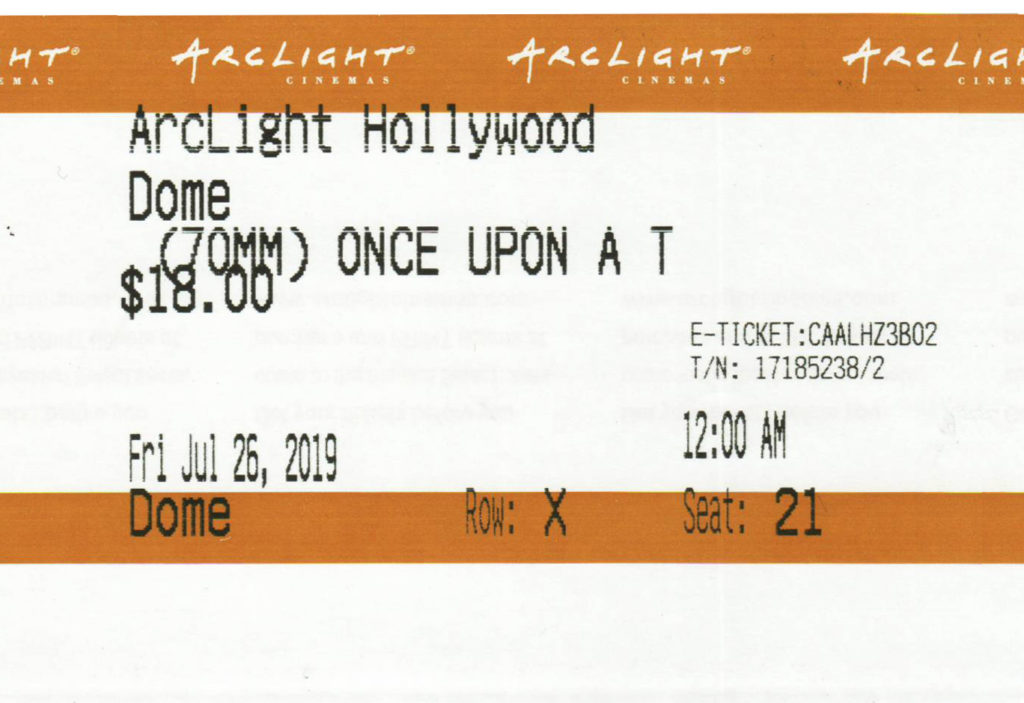 The midnight crowd… a packed house. Everyone squirming in their chairs, super excited for this 70mm screening, only one movie trailer for "Joker" would show before the film. ArcLight Cinemas allowed people extra time at their concession stands. I'm pretty sure the film began quarter after midnight.
It was halfway through "Once Upon a Time… in Hollywood" where the 70mm projection system went out. Leonardo DiCaprio made his demands to Luke Perry. Luke Perry finishes his scene and the projection system goes out.
R.I.P.
ArcLight Cinemas sends in a crew member and he announces how the 70mm projection system went out. We all had watched the 1st half of "Once Upon a Time… in Hollywood" on film and the second half would have to be projected on screen from their state-of-the-art LCD projectors and this, that and the other thing.
Digital.
No big whoop. I'd done this twice before and my third go-around was the charm. A woman goes, "Oh, come on! We paid to see it on film!"
Some man yells at the woman, "It was shot on thirty-five millimeter and blown up to seventy anyway, so it's going to look better! Fuckin' relax!"
And my goodness! The ArcLight guy assures everyone they can leave now and tickets will be refunded. Some folks in The Dome get up to leave, stretch, use the restrooms, buy more food from concession… it was pure midnight madness.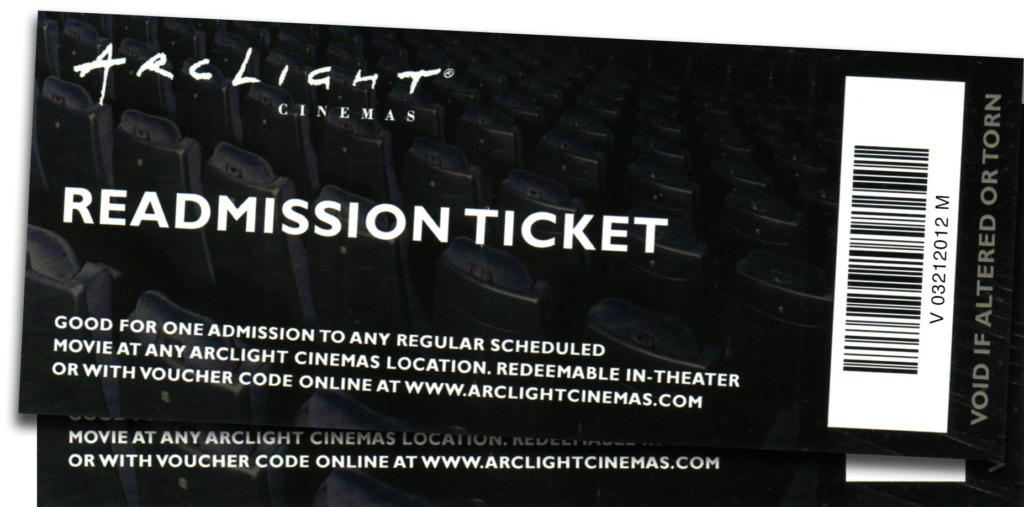 And after the movie ended, the good people at ArcLight Cinemas met every single movie-goer outside to offer free passes because our film-going experience was interrupted.
Sweet.
I pulled an all-nighter, left the car inside ArcLight's parking garage and headed over to Amoeba Records for their exclusive sale of that vinyl soundtrack, limited to 500 copies.
Amoeba Records would be opening their doors at roughly 10:30am. Around four o'clock in the morning, there were already five or six people waiting in line!
The rare limited edition vinyl album had just been listed for $200 on eBay. Amoeba sold the album at $45 (give or a take a buck after tax and things), so that's a $155 profit, maybe more? Depends how it's marketed and the pictures, sales receipt, the Amoeba Records bag, unopened cellophane, etc.
We stood in line for hours. I lined up a pic of Amoeba Records in the early hours of the morning…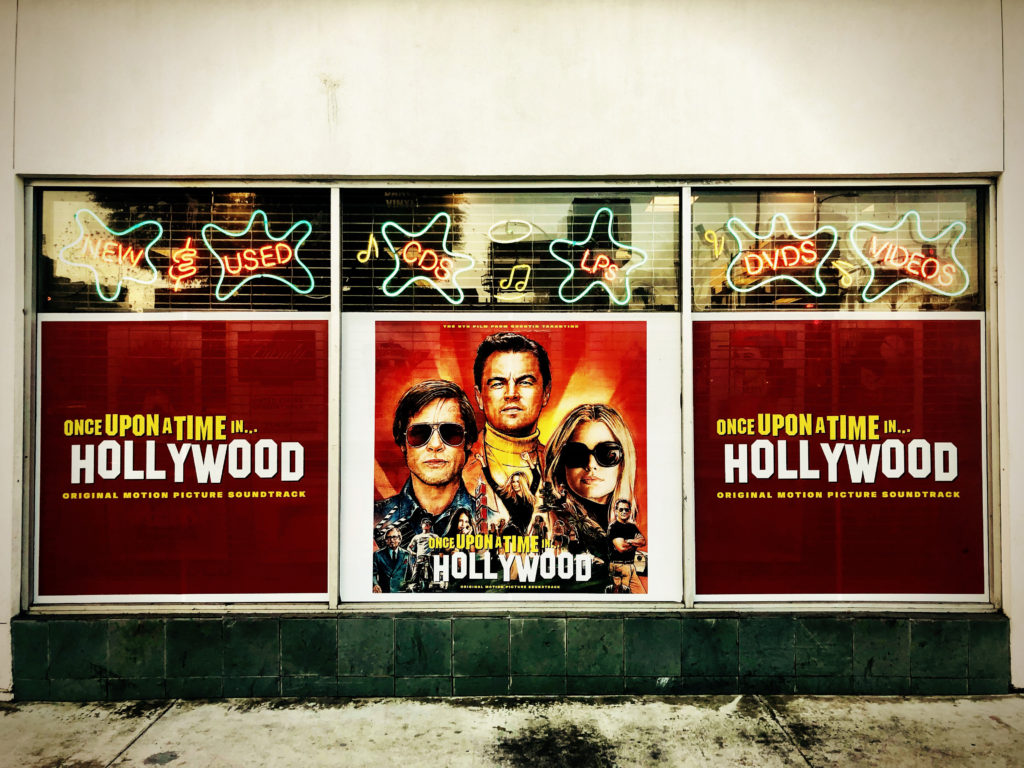 …the picture got uploaded and posted to Instagram, a little bit of a writeup as to what's up, my location at Amoeba Music, some basic hashtags: #RARE #LimitedEdition #vinyl #records #soundtrack #onceuponatimeinhollywood with some "@" tags in the mentions to the film's social networking and Amoeba in Hollywood.
#boom
Eight minutes later, ArcLight Cinemas was the very first Instagram account to like this post.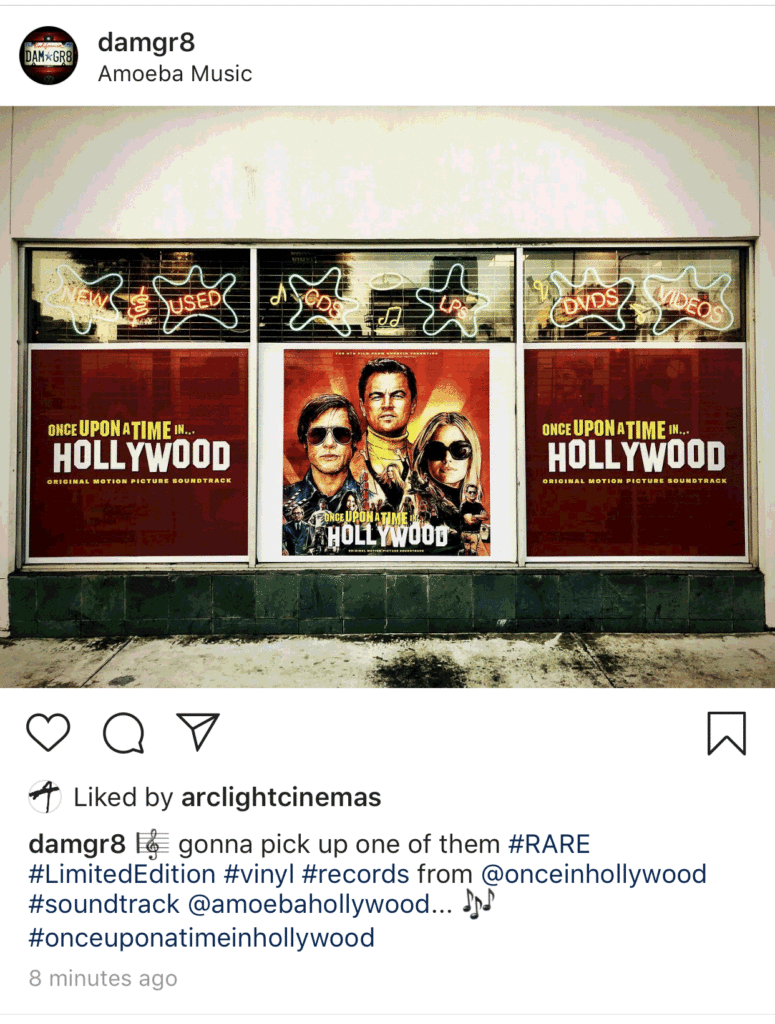 Very cool. Good for me. From dusk until dawn'ing it around Hollywood with the afternoon quickly approaching. This was beginning to feel like another goofy acid trip. I started to think how I had the rare, limited edition vinyl record to "The Hateful Eight" along with the set of pins from New Beverly Cinema.
Now I had the rare, limited edition vinyl record to "Once Upon a Time… in Hollywood" along with a set of pins from ArcLight Cinemas. I needed to take a nap.
I took a nap and crashed hard.
---
TCL Chinese Theatres
Afternoon
This slideshow requires JavaScript.
I woke up late. I woke up later than I had wanted to sleep and I woke up confused. Did I give myself enough time to get to the Mann Chinese Theatres?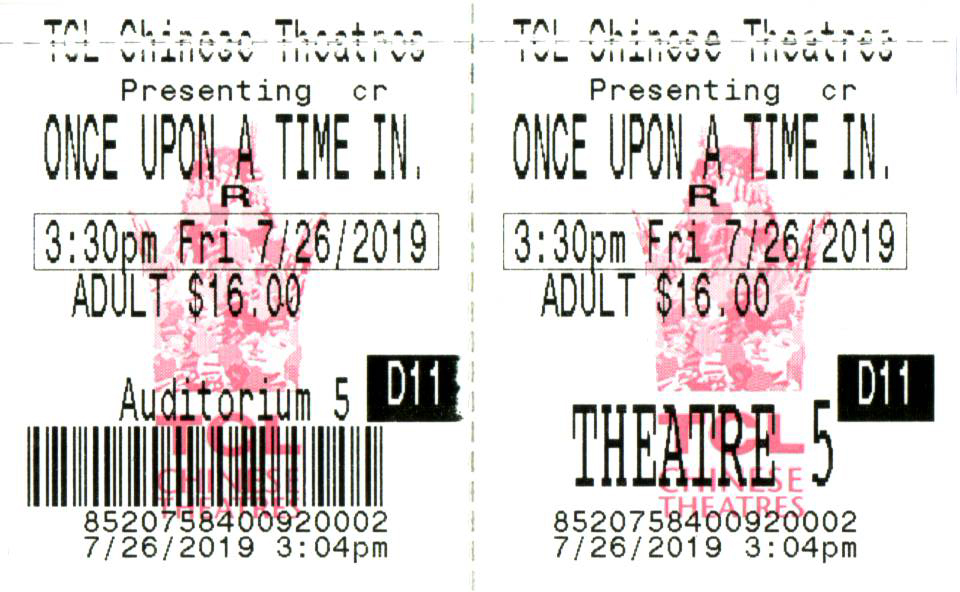 I hit the road at about two o'clock in the afternoon. I had hoped to start out by 1pm and make a day of it, didn't get a chance to shower. The drive to the theatre was easy and parking the car worked out great. That electronic cellphone digital movie pass I picked up online was good to get me inside, but I wanted a paper stub as well. I show ID, a couple of credit cards and out pops a ticket.
Chinese Theatres printed my "Once Upon a Time… in Hollywood" movie ticket at the window.
Very cool to be here, where the World Premiere of "Once Upon a Time… in Hollywood" took place just the other day.  TCL Chinese Theatres is the spot in Los Angeles where Quentin Tarantino and all those other Hollywood greats placed hands and feet in cement outside the cinema. Tarantino's slab location…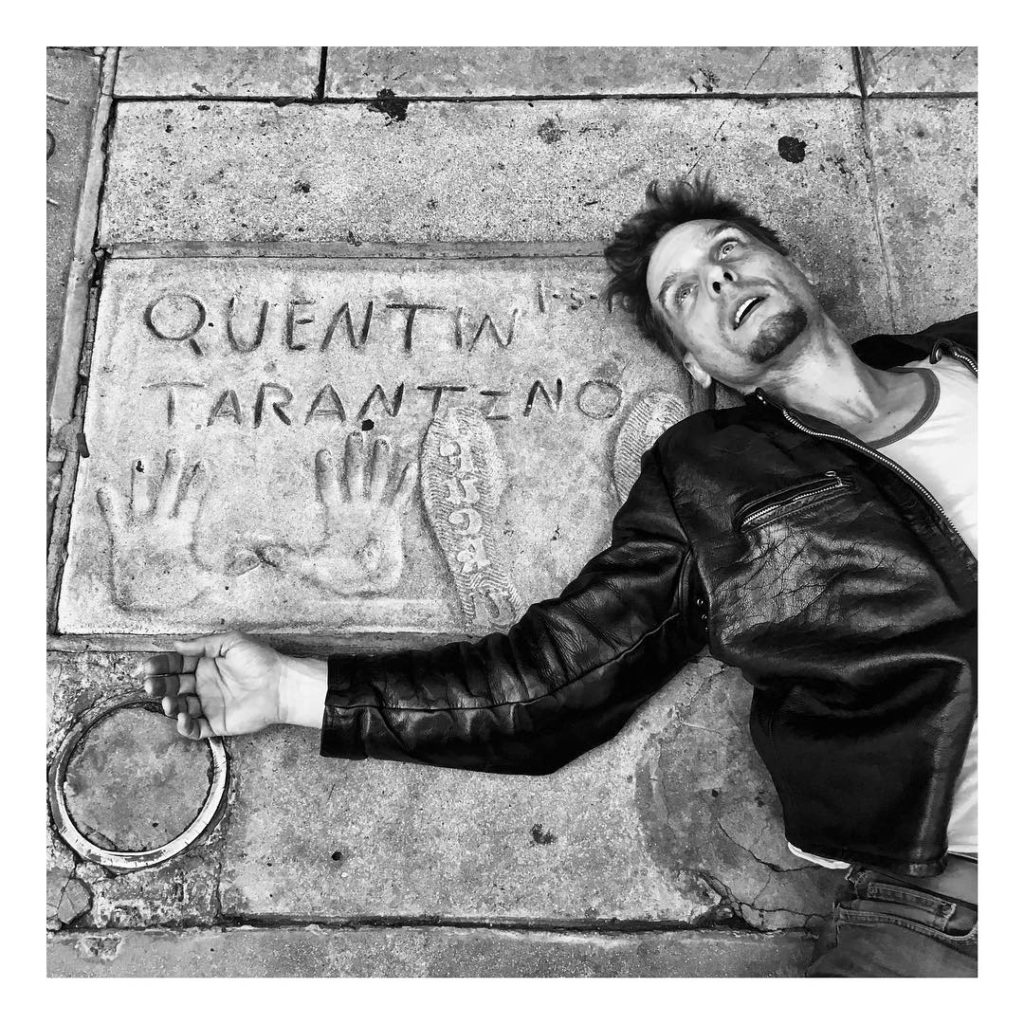 …if you're facing TCL Mann Chinese Theatres, it's off to the right and way up near the top, next to Steven Segal and Tim Burton.
And Quentin Tarantino's Hollywood Star on the Hollywood Star Walk of Fame deal… on Hollywood Boulevard? Tarantino's star is in front of the theatre, to the right, on the sidewalk, close to the box office.
Prime real estate, bud.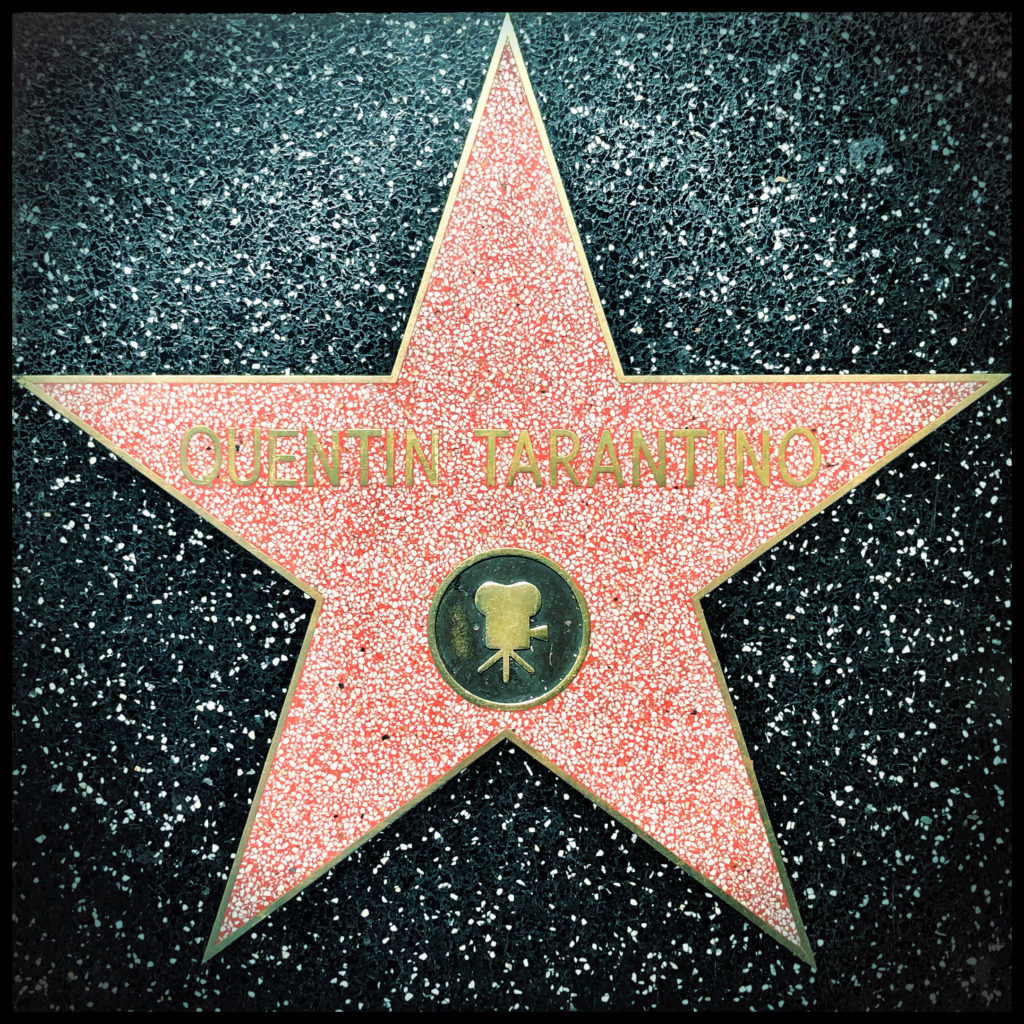 Another awesome experience at a classic Hollywood movie theatre. No shower for me at this point and barely any sleep, I head out to New Beverly Cinema as the sun begins to dip…
---
New Beverly Cinema
Midnight
This slideshow requires JavaScript.
Just like a weird acid trip and I'm back at New Beverly Cinema after staying away from their establishment for over three years. Tickets were sold in advance, tickets are on will-call and I'm sure those people have gone over their guest list once or twice.
And I'm thinking: they never called to let me know I can't come back. Would they remember me?
OH SNAP!!! As soon as I step into their waiting line with only four people in front of me, I could tell I was being watched. Moments later, a guy walks out from New Bev and asks if we're all ticket holders for their midnight show and asks who is there to get the limited edition rare vinyl album.
"YEAH!" we all say. The guy tells us he'd be back with tickets, vouchers, or something for the first 15 in line who want to buy this limited edition vinyl record. He mentions how it will cost us $50 even… with tax and everything included. Fifty bucks.
I ask if they'll take cards or is it cash only. He says both.
When the guy walks away, I ask the young lady in front of me if she would be purchasing one of these records and she tells me, "no."
"Perfect. Can I give you fifty bucks and when he comes out and asks who wants an album, will you raise your hand and take a ticket? Here's fifty dollars in cash."
We quietly set it all up. I snap a pic of the marquee…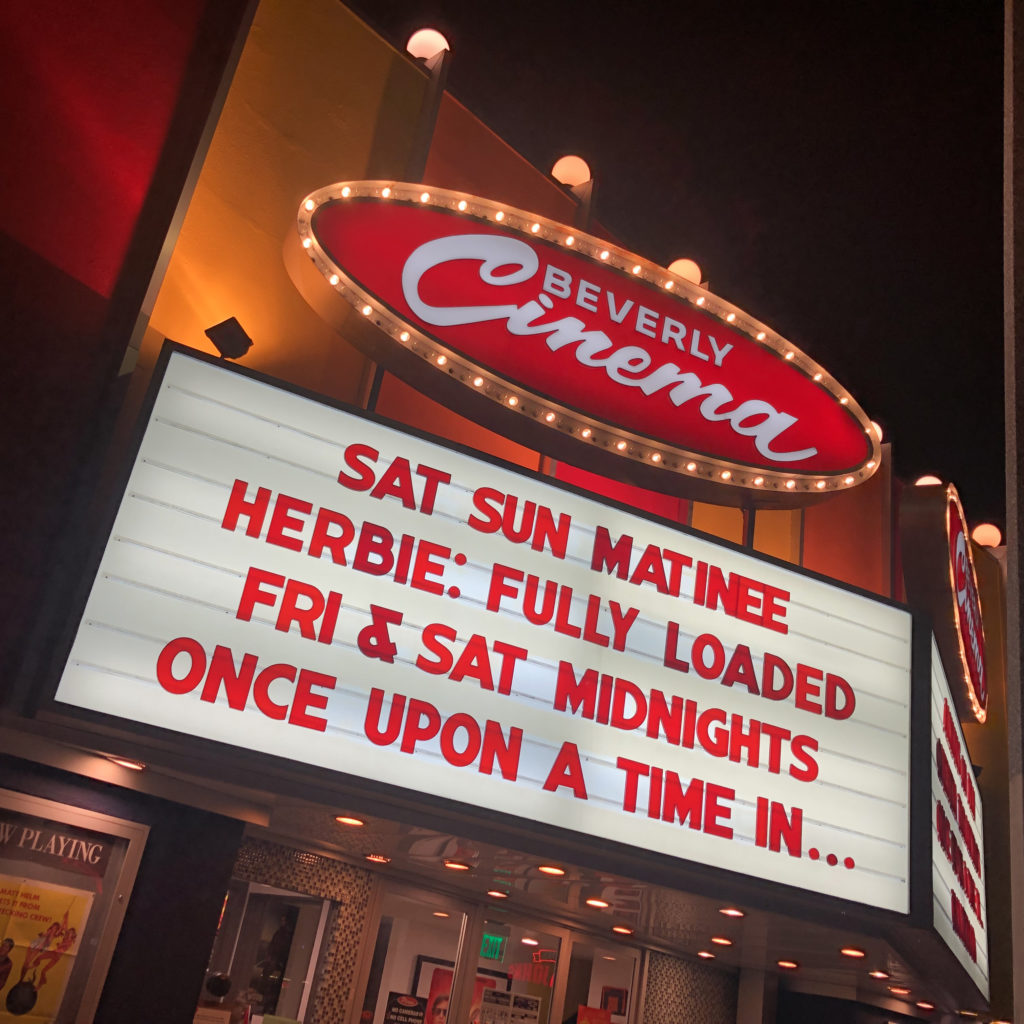 …and I would wait until much later before posting anything to Instagram.
Quentin Tarantino walks on by and a few people in line call out, clap, wave to the man of the hour. Tarantino waves and heads on into his movie theatre. A couple people in line attempt paparazzi pics. I know it's not smart to take pics of Quentin Tarantino.
I know it's not smart to take pics of Quentin Tarantino and Tweet them out, Instagram these things, give people reason to swarm… I dunno. Who cares? The New Beverly Cinema has security. Not my deal and not my concern.
Suddenly, the guy from New Beverly Cinema walks out the front glass doors with a string of tickets in hand… it looked like he won a game of skee ball. The guy held probably exactly fifteen tickets. He starts ripping them off, one at a time, handing tickets out to those who want that rare limited edition vinyl record.
I look at the guy in front of me. I say, "Dude, where's your girlfriend?"
Dude says, "I think she ran over to the gas station."
Fuck. I ask the guy from New Bev if I can have an extra ticket for someone who just walked away, but will be right back.
"Nope, you gotta be here in line now." he announces and continues dishing out tickets. It's like… okay, two hours before you open doors? That's interesting. And the New Beverly Cinema guy was acting strange, or nervous… something was up.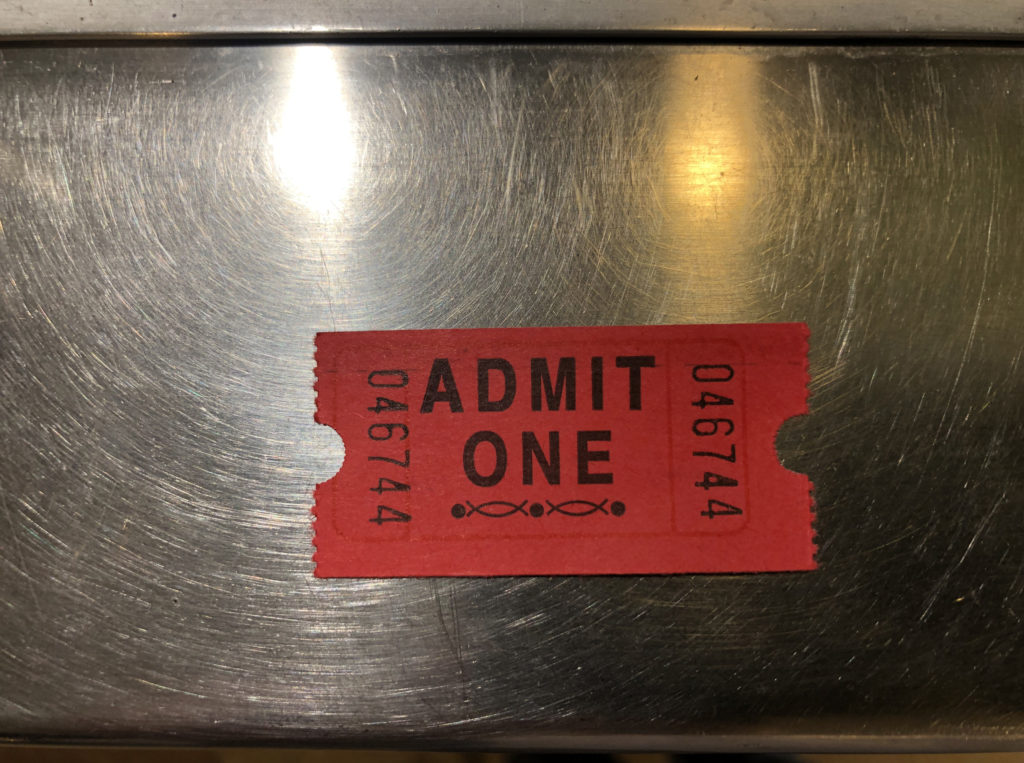 I took a picture of the ADMIT ONE paper ticket New Bev gave me and got back in line for the midnight show with the rest. The guy from New Beverly Cinema calls the first ticket holder, then the second, third, fourth, fifth – my turn.
"Next!" he calls out from behind the glass where they sell tickets.
I walk up and give him my $50 cash, even though I had asked if they would take credit cards, I no longer needed that option. The young lady in front of me was supposed to take my cash and I would use a card. Now I have cash, so I'm sure they prefer cash.
The guy from New Beverly Cinema asks if I can use my card instead, just because it will keep that separate and it's a different thing here and he gives me this quick explanation about how he's doing the books there and I'm like, "Oh, no."
Fuck. The guy knows me. And he asks if I was at the cinema a few years ago.
"Yeah! I went to The Tarantino Eight!"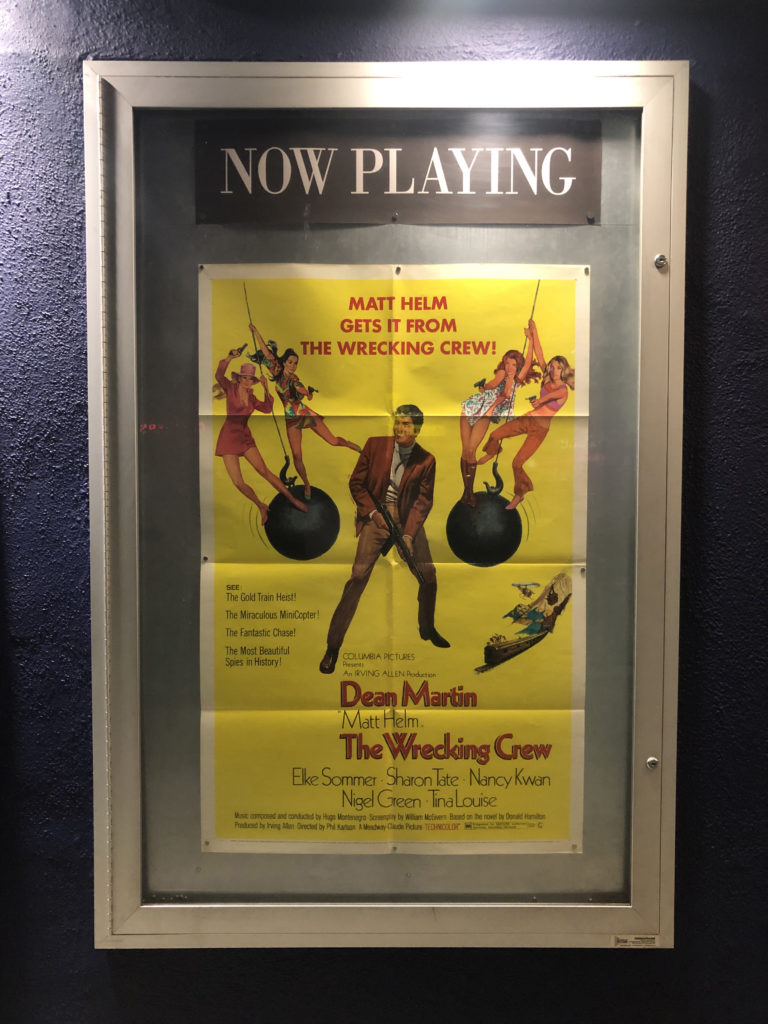 And there it is… there it fucking is. I'm about to be kicked out. I know I'm about to be kicked out. What could I do? Just shit in my pants and swim. It's kinda like that scene in "Once Upon a Time… in Hollywood" where Kurt Russell tells Brad Pitt to leave the set of "Green Hornet" after Brad kicks the crap out of Bruce Lee.
I head on over to the movie poster display and check out the folded one-sheet to "The Wrecking Crew" – a movie featured in the movie "Once Upon a Time… in Hollywood."
Nice touch and pretty cool.
It's coming, I know it is. There's no way I'm getting into that theatre to wrap up my day with a midnight movie. No way I'm getting through those doors tonight. And the doors of New Beverly Cinema open and the guy from New Beverly points at me and the guy asks me to follow him over this way so he can have a quick word with me.
Mm-hm. Let's talk.
The guy at New Beverly informs me: this comes from way up top… never come back to New Beverly Cinema ever again.
I ask if I can explain myself… no, he won't let me. I tell the guy from New Beverly Cinema about the hackers, the trolls, losing my social media, getting it back, how I was targeted and he tells me he gave me enough time, I agreed, but a lifetime ban?
The guy from New Beverly Cinema informs me I had a mental break over three years ago, I'm mentally unstable and I had taken up enough of his time, he had things to do.
I told the guy from New Beverly Cinema, "Yeah… I was going through a bad divorce… and… I understand. Thanks for selling me a limited edition vinyl album. I appreciate getting the record, even if someone took the cellophane shrink wrapping off, it's still kinda cool."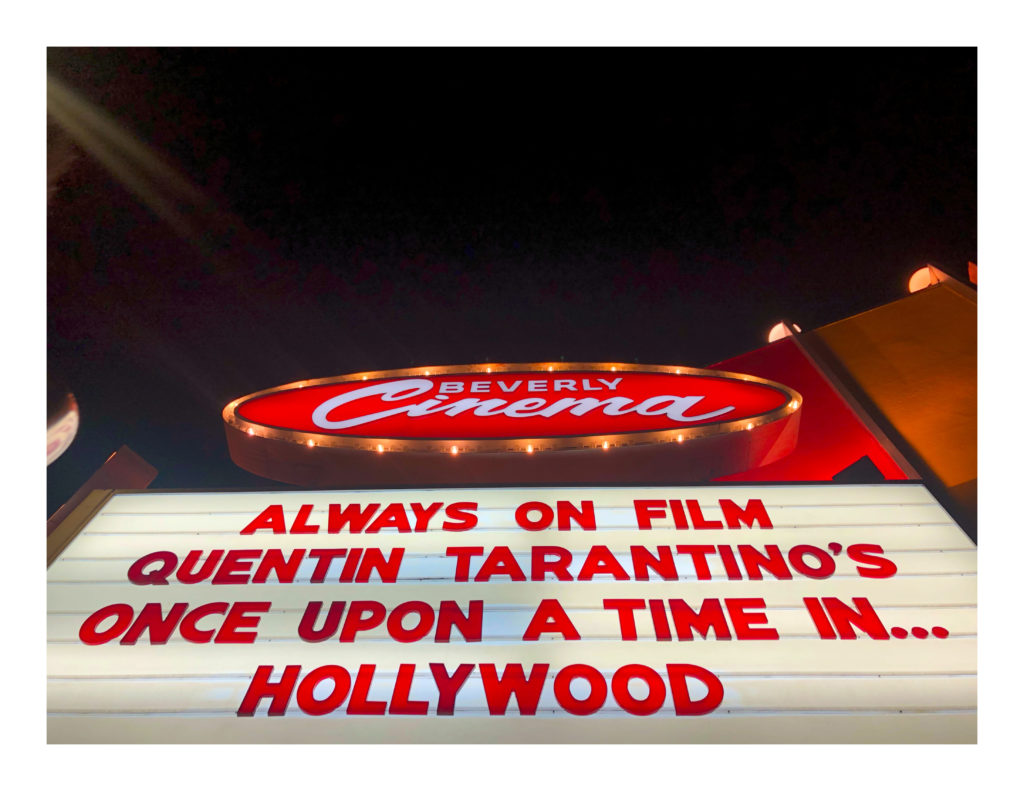 I get in the car, drive off, land somewhere and think about things.
One thing I thought about: I kinda wondered if their social networking person knew I'd been banned from New Beverly Cinema for life. Maybe they were two different departments? I post the final photos from my day.
My phone lights up and New Beverly Cinema comments on a photo and likes both posts about their theatre.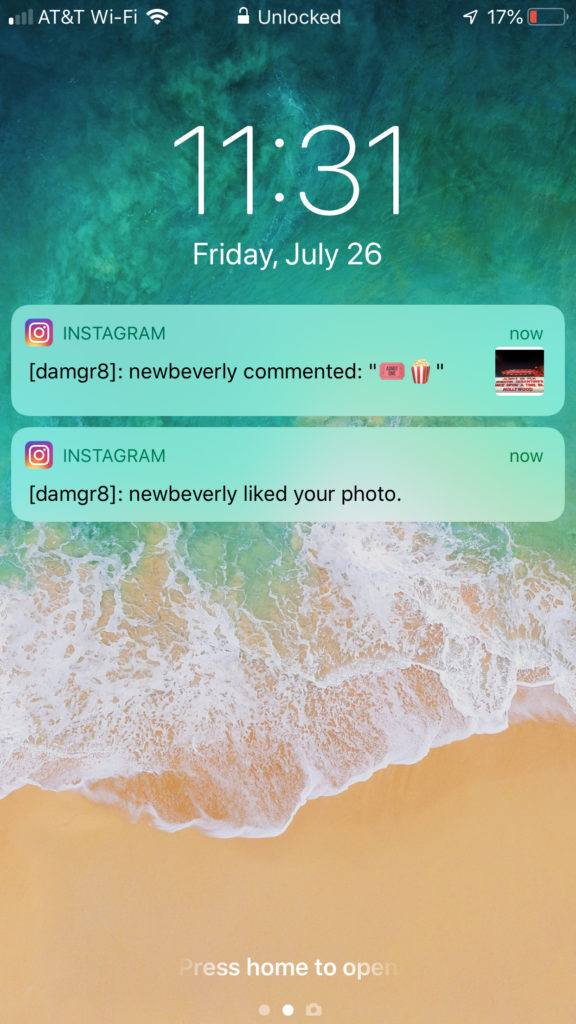 New Beverly Cinema's comment: a paper movie ticket and a box of popcorn… emojis.
Cute.
Clearly, this is another case of me taking an amazing picture and the company or organization ends up loving my eye. Good angle, just the right amount of filter, carefully crafted post with tags and hashtags and locations and what's not to like?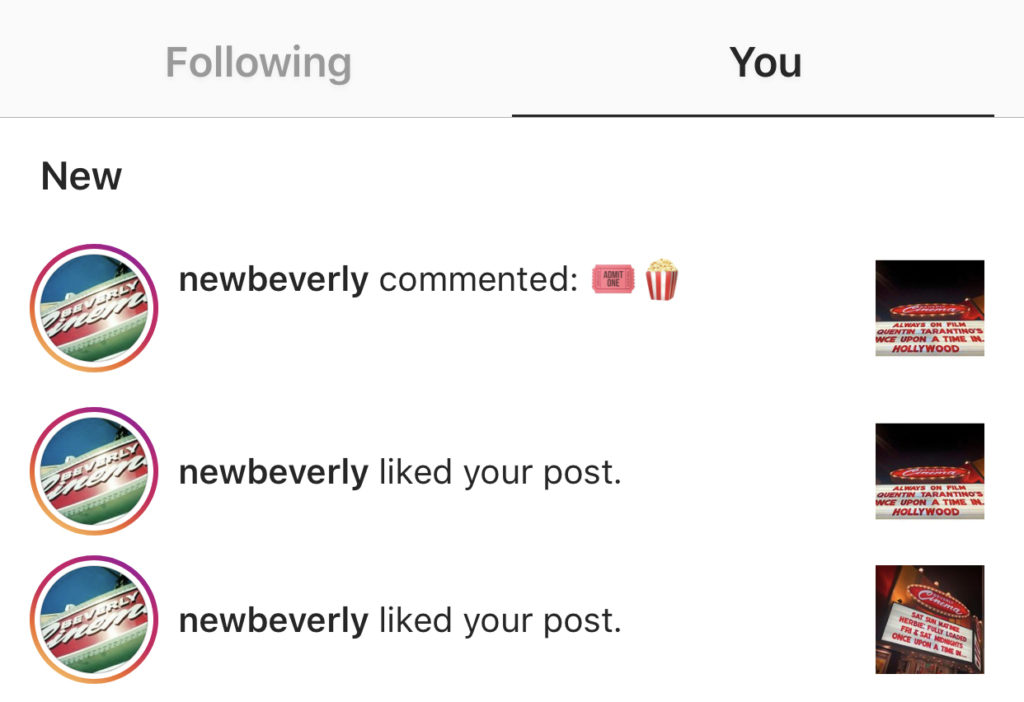 newbeverly (New Beverly Cinema) liked two of my posts and commented on one of the pictures! The theatre owned by Quentin Tarantino… on the day of the release to Quentin's new film, "Once Upon a Time… in Hollywood" his movie theatre liked my stuff and commented.
(after they tossed me)
When I woke up the next day, New Beverly Cinema took away their "likes" from my two posts because you aren't supposed to like the trash you threw out. The theatre left the emojis comment and took back the likes!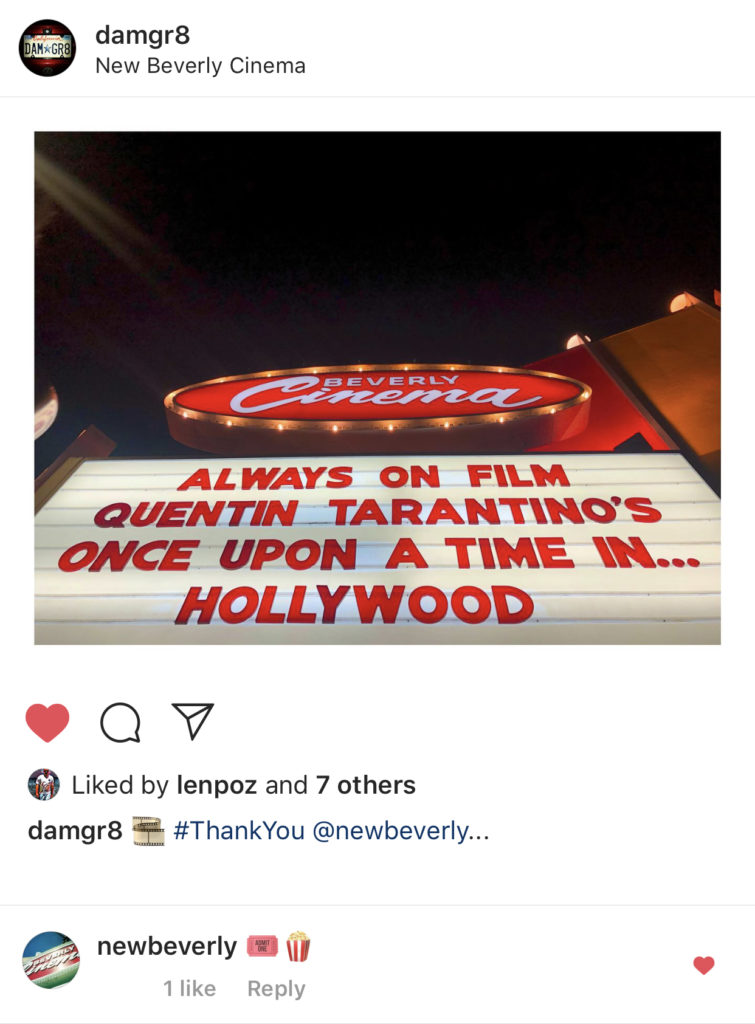 Well, overall… I dunno. I thought I was a good friend.
I tried.